ElectroMeds Is Proud To Offer
Three State of The Art
Light and Sound Mind Machines
Sirius Light and Sound Mind Machine – $149
DAVID PAL36 with CES                            – $495
Laxman Light & Sound Mind Machine – $649.
---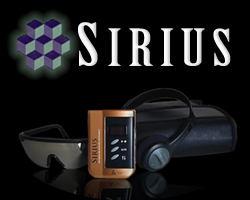 The
Sirius
from MindPlace is the best value in light/sound mind machines available today. An ideal "starter" system due to its low price and rich set of features. It will provide many hours of rewarding use. Our new PureWhite white-light LightFrames, for enhanced visuals.
The Sirius is incredibly sturdy, conveniently small, ergonomic, and very easy to use. All you need to do is power it on, choose one of the 23 preset sessions, put on the headphones and Lightframes, and close your eyes. The session will guide you into other mental states by stimulating your senses with special patterns of sound and synchronized lights. You will be instantly transported to a profound state of relaxation.
In your minds eye you'll see patterns of shapes dancing to thick washes and pulses of sound. This special combination of flickering light and sound has an effect on your brainwaves. Geometric patterns shape-shift and color cycle while guiding you through the session toward the mind state you desire.
Our price only $149
---
DAVID PAL36 with CES Cranio-Electro Stimulation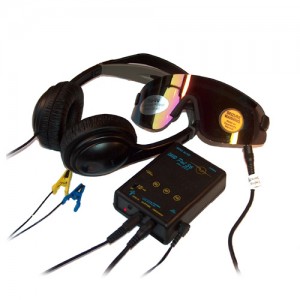 The DAVID PAL36 with CES (Cranio-Electro Stimulation) is just that – it's the PAL36 with  CES built in. It has the benefits of AVE and CES all in one machine! It is the same size as the DAVID PAL (approximate dimensions – 2.5 x 1 x 3.5 inches / 7 x 2.5 x 9cm ) which is perfect for people who are on the go. The PAL36 with CES offers the same features as the DAVID PAL, but with 30 preset sessions and 6 spaces to store your own user defined sessions, and CES.  The CES stimulus cable, that is included, uses ear clips (see picture below).
CES (Cranio-Electro Stimulation) is a therapeutic procedure using minute battery-powered current that results in enhancing endorphin production, which assists in reaching deep levels of relaxation and a sense of well-being. Research shows that CES can be an effective method to alleviate anxiety and/or depression, assist with substance abuse recovery, increase mental clarity and improve sleep. There are virtually no negative side-effects with CES.
Our Price $495

---
Laxman Light & Sound Mind Machine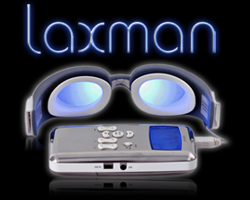 $649.00 Free USPS Priority Shipping for US Customers. Affordable international shipping options available.
The First Open-Eye All-Color Light & Sound Mind Machine Available. Built-in MP3 player and ganzfeld goggles. The Laxman never fails to impress. Profound entrainment effect.
Our Price $649
---
Return To Top