Buy A MagnoPro – Or Rent

*** Special Bonus – FREE Travel Bag With Every Purchase ***
Magnopro Home System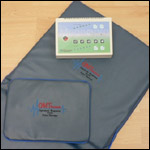 Buy now at $1,990.00 (+ $40 Shipping)
MagnoPro Home Unit Order Securely Online

This Unit Includes:
Control Unit(model OMT-2000-H)
Large Mat Applicator (64″ x 20″) – Reaches 150 MicroTesla
Pillow Applicator(13.8″ x 9.8″)
Power Adapter 110-240V
Magnetic Field Tester
Travel Bag
Instruction Manual
DVD
2-Year Factory Warranty
30 Day Money Back Guarantee
Click Here (right click, save as) to download the MagnoPro Home Unit Order Form.
======================
Accessorites: MagnoPro Pen
 Magnopro MF-Pen Applicator
To be used with the Magnopro Home System. Non-invasive applications only. Ideal for stimulation of the acupuncture points and therapy  for small joints, elbow, eye, fingers, jaw, nose etc.
Purchase
Buy now at $305.00 (+$12 Shipping or free with a system above)
Click Here To Order Your MagnoPro Pen Now


==========