SomaPulse PEMF System
Learn About StemPulse (same technology as SomaPulse Save $100) Here.
The SomaPulse is a local system that will likely have systemic effects. This system runs off of a 9V battery and is completely portable. This unit includes the control box, one pair of coils, and one 9V battery. The signal in this system was originally developed by a team of researchers at NASA for the purpose of stimulating stem cells in astronauts while they are outside of the Earth's magnetic field. The SomaPulse signal also up-regulates many of the genes involved with the extracellular matrix, which is responsible for things like connective tissue and also supports and separates tissues from one another, and regulates intercellular communication. The combination of the stem cell stimulation and up-regulation of genes means that this unit is expected to do a superior job with wound healing.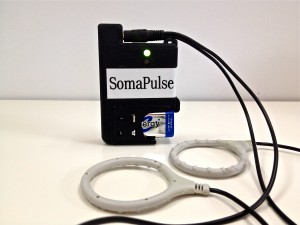 Program cycles, which run continuously until the battery dies or is removed, last for 41 minutes: 10 minutes of 5Hz, 10 minutes of 100Hz on the positive side, and 10 minutes of 100Hz on the negative side, followed by 11 minutes of rest. There are 2 coils with this system. Coils configuration determines the intensity of the field. Separately, each coil will produce a specific intensity (for the P2 model, 80 to 90 Gauss). When placed near each other (coils next to each other on the back, for example), or opposite each other (one coil on each side of a knee, for example), the intensity increases (for the P2 model, to 150 Gauss). When the coils are stacked (either smooth side to smooth side or nubby side to nubby side), intensity increases further (for the P2 model, up to 200 Gauss.)
---
Technical information as provided by manufacturer
| | |
| --- | --- |
| System Information: | |
| Waveform: | trapezoidal |
| Frequency: | 5, 100 Hz |
| Maximum intensity: | 80 Gauss per coil, 200 Gauss with coils stacked |
| Number of programs: | 3 |
| Program duration: | Continuous |
| Power: | 9V battery |
| System dimensions: | |
| Control Box: | 2.5? x 4? |
| Coil diameter: | 2? |
| Additional Information: | |
| | |
| | |
| | |
| | |
SomaPulse SAME AS StemPulse
Learn more about this amazing technology – Click Here.