FREE Bonus With Every
PEMF 8000 – Any Model
The question we hear more than any other, about a PEMF 8000 is "where will I put it?".  We have a better idea than "lay it on the pool table"…

Look into the PEMF 8000 here if they are what you are looking for.
Our solution – choose one of the following free bonuses with every PEMF 8000 purchase:
Now, you have a choice where you take your PEMF sessions.
Here is all you have to do to get your free bonus – retail value $249
1.  Just pay the shipping – $50
2.  Give us your testimonial of what PEMF is doing for you.
3.  Send us one referral of someone you know in pain.
Normally we must wait for you decide if you are going to keep or return the unit at the end of your 30 day money back guarantee.  But, if you are sure that you are not going to return it, then we will be happy to send your bonus immediately.
Just let us know that you will NOT be returning your unit at the end of the 30 day money back guarantee period, and we'll send the paypal link immediately where you can use paypal or your credit card and you will have your bonus item in just a few days.
We will email you a paypal request – follow the link in the email and it will walk you through.
There is no limit to this offer.  Every PEMF 8000 purchased allows you to qualify to receive a new, free bonus.  Tell your family.  Tell your friends.  If they have been thinking about buying a PEMF system, they should get everything out of the experience as possible.
This free bonus offer gives you the full benefit of your investment.  The combination of PEMF pulsed magnetic resonance and sturdy, comfortable table gives you the satisfaction of knowing that you are providing the best health technology on the face of the earth.
Ultrathin Mini Crazy Fit Vibration Platform Massage Machine Fitness Gym
Product Description
Auto speed in auto-mode
9(P1,P2,P3,P4,P5,P6,P7,P8,P9)
Time Setting: 15 Min in auto-mode(time can be changed in manual-mode)
Overall Dimension: 30'' x 18'' x 5.5''(L x W x H)
Stepper Size: 25.6'' x 13''(L x W) Length of Power Cord: 4.92'
Max Capacity: 220 lbs Unit Weight: 36 lbs
Package Includes: 1 x Vibration Platform, 1 x Remote Control, 1 x Elastic String, 1 x Instruction
Material: ABS(enclosure) + Rubber & Plastic(Stepper) + Steel Frame(body inside)

Rated Voltage: 90-110V AC

Rated Power: 200W

Rated Frequency: 60Hz

Speed Range in manual-mode: 1-60(useful in manual-mode, not useful in auto-mode)
Deluxe Anti-Gravity Adjustable Recliner Chair
Anti-gravity recliner has a steel suspension frame to ease back tension
Offers infinite back and leg positions; 250-pound weight capacity; wide variety of colors
Durable Textilene seat attaches to frame with bungee cords through metal grommets
Open measures 63.8 inches long by 26.8 inches wide by 29.3 inches high
Closed measures 36 inches long by 26.8 inches wide by 5.7 inches high
Shipping Weight:  22 pounds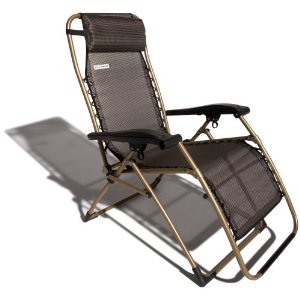 Read some of the testimonials about this awesome chair:
Excellent product
No assembly required. Excellent color that hasn't faded at all in a couple of months on the balcony. Comfortable, well made, recliner function works great.Great comfort
The design of this chair makes it very comfortable and the quality makes it durable.Great Chair
The chair is great for lounging and relaxing in the sun and cool breezes that reach our balcony. Surprisingly, the chair does not take up that much space.Great product
These chairs are fantastic… the comfort is incredible… the ease of operation is, well, perfect
Relax A Little
We have had two of these chairs for over a year. We only use them while camping. They work great for us but if your weight is 275 or above it might be a tight fit.
Great Chair
This anti-gravity chair is well built and worth the money, which by the way was very reasonable. I use it for a recliner in our winter rental and its perfect.
antigravity chair
I bought 2 of these chairs for birthday gifts. Both have held up like iron and look new. Both are amazingly comfortable.
Very comfortable
Bought this for my wife and I ended up using it more than she did. I love this chair, great for taking a nap in the afternoon shade.
Black Padded Massage Table
Massage Table Description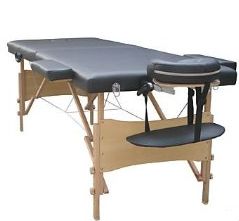 It is hard to describe all the advantages to using your magnetic resonance mat, pad and probe on this professional massage table.  Let's just say that after your machine on this padded table, you'll see why this is such a special bonus offer.
This is a Brand New 2″ Foam Black Folding Massage Table.  We purchase all of our massage tables directly from the factory, providing you with the best quality available.  Your massage table is guaranteed to be of the highest quality.  Please note that this table comes with multiple free accessories that other tables don't even think about:
Brand new in retail packaging
2″ Thick Padding with Birch Hardwood Construction
Free Premium Carry Case
Removable and Adjustable Face Cradle
Table Dimensions: 72″ Long (without face cradle) × 27″ Wide
Adjustable Height: 26″ to 36″,
Capacity:450lb
Shipping Weight: 50 pounds
The frame is made of birch to ensure professional strength with a weight limit of 450LB.   This table is easy to fold and unfold and comes with a free carry case. The upholstery is comprised of two-inch thick high density small-cell foam padding and oil & water-proof PU leather, not cheap PVC used by others. This table comes equipped with numerous free accessories such as Free Adjustable Head rest, Free Face Pillow, Free Hanging Arm shelf, Free One Pair Of Hand Rest, Free Deluxe Carrying Case.
Black Gravity-Pro Deluxe Folding Inversion Table For Fitness, Therapy and Exercise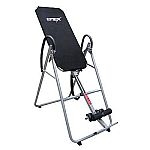 This is an upgraded heavy duty table. It can relieve stress, stimulate blood circulation and relax the muscle. It will slowly rotate when you gradually place your arms backward.
Features:
Durable steel frame
Bearing joints
Partial or full inversion allowed
Full size and easy to reach hand rails
3-position roller hinges for control of rotation speed
Side covers to protect hands
Durable and tight back support
Nylon strap for safe inversion
Smooth height adjustment
Ergonomically padded ankle brackets in secure design
Non-skid floor stablizers
Adjustable for individuals from 4'10" to 6'6″ in height
Supportive up to 330 lbs in weight ( SGS certificated. )
Easy assembly
Foldable to save room
Main Benefits:
Relieving stress
Relaxing the muscle
Fighting fatigue
Eliminating back & neck pain
Stimulating blood circulation
Shaping good figure
Increasing body flexibility
Deferring aging
Package Content:
1 Inversion Table
1 Wrench
1 Screwdriver
1 Instructional DVD
1 Manual
Product Details
RCA Cambio 10.1″ 2-in-1 Tablet 32GB Intel Quad Core Windows 10 Black Touchscreen Laptop Computer with Bluetooth and WIFI
Product Information
Brand NEW Factory Seal Tablet: RCA Cambio W101 V2 Black color. Introducing the RCA Cambio 10″ Windows tablet with detachable keyboard. Powered by an Intel 1.83 GHz quad core processor, the RCA Cambio is ready to tackle any task. Preloaded with Windows 10, the RCA Cambio boasts a clean and easy to use user interface. Create powerful documents and slideshows with Microsoft Office 365, and store them all on your 32GB hard drive. Use the Cambio's Bluetooth capability to connect and pair with nearby compatible devices. Setup a videoconference using the Cambio's front or rear 2MP cameras. Windows 10 A refreshing twist on a familiar face 1.83GHz processor For web browsing, music, video, email & games Built-in 32GB memory Storage for plenty of apps and media Front facing and rear cameras For video conferencing and capturing priceless moments Unlock a world of apps and games Pursue your pleasure.
Technical Details
| | |
| --- | --- |
| Screen Size | 10.1 inches |
| Screen Resolution | 1280×800 |
| Max Screen Resolution | 1280×800 |
| Memory Speed | 1.83 GHz |
| Hard Drive | 32 GB |
| Average Battery Life (in hours) | 6 hours |
| | |
| --- | --- |
| Brand Name | RCA |
| Series | Cambio |
| Item model number | W101 V2 Black |
| Operating System | Windows 10 |
| Item Weight | 2.8 pounds |
| Product Dimensions | 11.5 x 7.7 x 3 inches |
| Color | Black |
| Rear Webcam Resolution | 2 MP |
| Flash Memory Size | 32 GB |