Let's look at a few technical features of the Medithera to compare them with the QRS. Let's start with the PEMF signal. The Medithera signal is very similar to the QRS signal as far as the frequency programs go (dominant frequencies of 3, 22, 250 Hz). Both systems also offer three similar treatment programs, i.e. NATUR (BASIS for QRS), AKTIV (VITAL for QRS), and RELAX (RELAX for QRS). The real differences between the two systems are the maximum intensities/strength and the signal waveform.
The maximum intensities for Medithera mat applicators is 35 microtesla, but dealers have access to up to 75 microtesla by using a 'Power' chip-card that needs to be inserted into the control unit. For comparison, the QRS mat has maximum strength of 30 microtesla.
Medithera's PEMF signal is designed to be very close to biological signals. Below I have drafted the resulting signal waveform of the magnetic field for Medithera (figure 1) and QRS (figure 2) when introduced to the body . The horizontal axis represents time and the vertical axis represents the induced current. The blue signal shape shows the induced voltage of the induced current. The green curve shows the natural signal of a nerve impulse (voltage signal which stimulates the sodium potassium pump in the cell membrane). You can clearly see below that the Medithera signal is precisely designed around the natural signal, in order to support cell metabolism. The QRS signal has  a 'sawtooth' shape that doesn't quite follow the natural signal curve and therefore is less effective than the Medithera signal.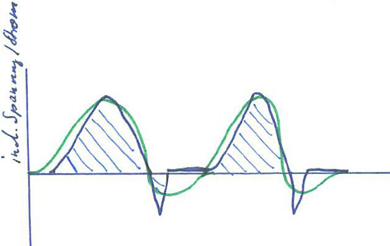 .
.
.
.
.
.
.
.
Medithera Wave Form Above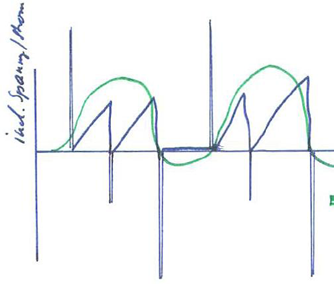 .
.
.
.
.
.
.
.
.
QRS Wave Form Above