Used iMRS For Sale
iMRS Pro Model 

Full Mat (Square Tooth waveform)

Pillow Mat (Saw tooth Waveform)

Probe attachment

Goggles and headset for relaxation

HRV ear attachment

Carrying case included.
We can sell your unneeded iMRS for top dollar here.
---
Used iMRS And MRS 2000 For Sale
According to the owner of Mediconsult, the fundamentals of the new iMRS 2000 PEMF machine have NOT changed from the previous model MRS 2000.  It is the SAME BASIC MACHINE with a bell and a whistle added – the HRV Heart Rate Variability Analysis.
Heart Rate Variability Analysis – Neat idea.
---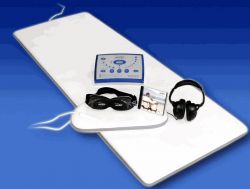 Frequency: .5 – 25 Hz Sinusoidal w/ Sawtooth Carrier Signal Waveform (full body mat), squarewave on pad and probe.
Intensity: 5 – 70 uT
Includes: control unit, full body mat, pillow pad and probe.
When the MRS 2000 is working, it makes you feel great – no joke!!  It really gets the job done when it comes to saturating your body with the penetrating electricity that it needs to heal quickly.  The intensity settings are high enough that you can feel like you are getting a good dose.  There are several drawbacks however.
Reasons Why iMRS Is Second Place
The MRS 2000+ Designo Advantages:
1.  Comes with a 3 year warranty.
2. Powerful unit putting out field strength of  up to 70uT.
3. Big League Sales  – over 400,000 MRS 2000+ (QRS has sold 600,000+)
4. Can plug in all 3 applications at once.
5. Easy to use and set-up.
Disadvantages:
1. The MRS 2000+ does not have a return policy. NO REFUNDS. PERIOD.
2. The MRS 2000+ designo must be flat. The vinyl mat has 6 round copper coils inside that cannot be bent. The mat must always be placed on a flat surface or you can damage the coils.
3. MRS 2000+ mat is not travel friendly. The mat must be folded in thirds so as not to bend the coils. You need a special travel bag (extra charge) and must be checked in as a separate item on most airlines.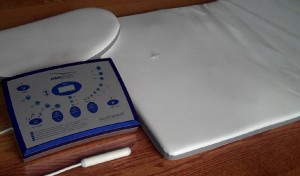 4. Not Programmable. The MRS 2000+ cannot be pre-programmed during sleep.
5. Short Sessions. The MRS 2000+ can only be turned on for up to 24 minutes.
6. No Electronic Smog Protection. The MRS 2000+ has no protection from "electronic smog" devices other then making sure that your surroundings are as free from "electronic smog" as possible.
7.  Bulky, Older Looking Technology. The MRS 2000 looks nice and professional, until you see newer equipment.
8.  Coils Isolate Signals. The signals only come out of the coils.  Outside the coil area, no signal.
9.  Vinyl Shows Coil Imprint. After many hours of use, the vinyl covers start to show imprints of the coils inside.
10.  Plastic Vinyl Covers Tear. The vinyl mat and pad can tear.
11. Reliability. We have experienced reliability issues with each of the 4 components at least once.  Here is a detailed list of the application and it's issue:  The Control Unit – no power / Mat – vinyl tear / Pad – broken wire / Probe – Control Unit could not "find".  Customer service was very expedient with all replacements [Thank You!!!].
12. The MRS 2000+ is expensive for very little MicroTelsla/Gauss.  This is overpriced technology.

13.  MRS 2000 Peer Reviewed Scientific Research. None.
14.  The MRS 2000+ has no Patents.
---
Do you have pain?  If YES, then here is the ElectroMeds basic formula:
1. How bad is your pain?
2. How much time do you have to "heal", or stop the pain?
3. What is your budget to stop your pain?
If you have high pain, little time to cure it, and a little bit of budget, then we recommend – hands down – the PEMF 8000.  Read more about the PEMF 8000 here.
Business and Personal Financing Available – Call, Chat or Email for details.
---
Do you have a used MRS 2000 that you would like to sell?  List it Here FREE!